Child Custody Attorney in Manchester
Brennan Lenehan Iacopino & Hickey Fights for Your Child's Best Interests
Parenting Plans outline the agreement of the parties or court-ordered decision between parents as to how decisions will be made regarding the children. It will outline the routine parenting schedule and how vacations and holidays will be shared.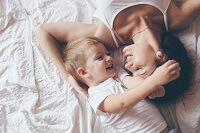 At Brennan Lenehan Iacopino & Hickey, we seek to craft a plan that fits your family and especially your children's needs.
Why choose our family law firm?
40+ years' experience serving families in New Hampshire
Individualized service that meets your needs
Bilingual services and representation
History of proven success in litigation
Our Manchester child custody lawyers can work with you to navigate your circumstances and work towards a solution that is beneficial for you and your children.
Speak with our firm to learn more about your options. Contact us at (603) 734-5461 today.
How Are Custody Decisions Made in New Hampshire?
In New Hampshire, the term "custody" was replaced by a parenting plan. Instead of having a custodial parent and a non-custodial parent, the courts wanted to encourage better and fuller relationships with both parents. However, the court still awards parents shared decision-making responsibilities or sole decision-making responsibilities.
Factors to be considered by a court in making its' decision are outlined in N.H. RSA 461-A:6.
Those factors include, but are not limited to:
The child's relationship with each parent
Each parent's ability to assure the child receives medical care, food, and shelter
A child's developmental needs
Child's adjustment to school and community
The ability of each parent to foster the relationship between the child and the other parent
The ability of the parents to communicate with each other
Once the divorce is final, parents will be awarded either shared decision making (the presumptive award) or sole decision making (rarely, but occasionally awarded).
Schedule a Consultation with a Manchester Child Custody Lawyer
With Brennan Lenehan Iacopino & Hickey on your side, you benefit from decades of experience and the resources of an established firm. We are equipped to handle your case from start to finish while keeping your needs and preferences at the forefront. We provide straightforward communication about your options and help you make informed decisions that will affect your future.